March 06, 2019
PHOTOS: Young and Braun Congratulate Indiana's U.S. Senate Youth Program Delegates
Fishers and Zionsville students participated in the U.S. Senate Youth Program's Washington Week
WASHINGTON – U.S. Senators Todd Young (R-Ind.) and Mike Braun (R-Ind.) today congratulated Ishaan Modi from Hamilton Southeastern High School in Fishers, and William Schrepferman from Zionsville Community High School in Zionsville, for being selected as Indiana's delegates in the United States Senate Youth Program (USSYP).
Ishaan and William traveled to Washington with high schoolers from across the country to participate in the 57th annual USSYP Washington Week. The two Hoosier students will also receive a $10,000 college scholarship for their undergraduate studies to further their interests in public service.
"Every year, the United States Senate Youth Program selects students with a strong interest in public service to participate in the program's Washington Week and receive a scholarship that will help open doors to more educational opportunities," said Senator Young. "I'm very proud of Ishaan and William's hard work and dedication to serving Hoosiers."
"Ishaan and William have displayed an excellence in leadership and academia, and we are proud to have such upstanding young individuals representing Indiana in the U.S. Senate Youth Program," said Senator Braun. "These valuable young Hoosiers' commitment to their communities and their desire to serve our country through public service is admirable."
Ishaan Modi, a senior at Hamilton Southeastern High School, serves as the student council vice president and also serves as a board member and outreach coordinator for the Hamilton Southeastern Schools Foundation. Ishaan is also the Hamilton Southeastern Democrats vice chair, and is an active varsity member of the speech and debate team. Ishaan has extended and applied his constitutional and governmental knowledge as a We the People participant and junior high mentor. He is also a member of the National Honor Society and Fishers Mayor's Youth Council.
William Schrepferman, a senior at Zionsville Community High School, serves as the executive president of the student council, president of the Model United Nations Club, and student technical director of Fall Musicals. He was the winner of the 2017 Congressional App Challenge for his work in creating the Zionsville Clubs App, in addition to being a National Merit semifinalist, a National AP Scholar, and the Zionsville recipient of the Daughters of the American Revolution Good Citizen Award.
Photos from the event: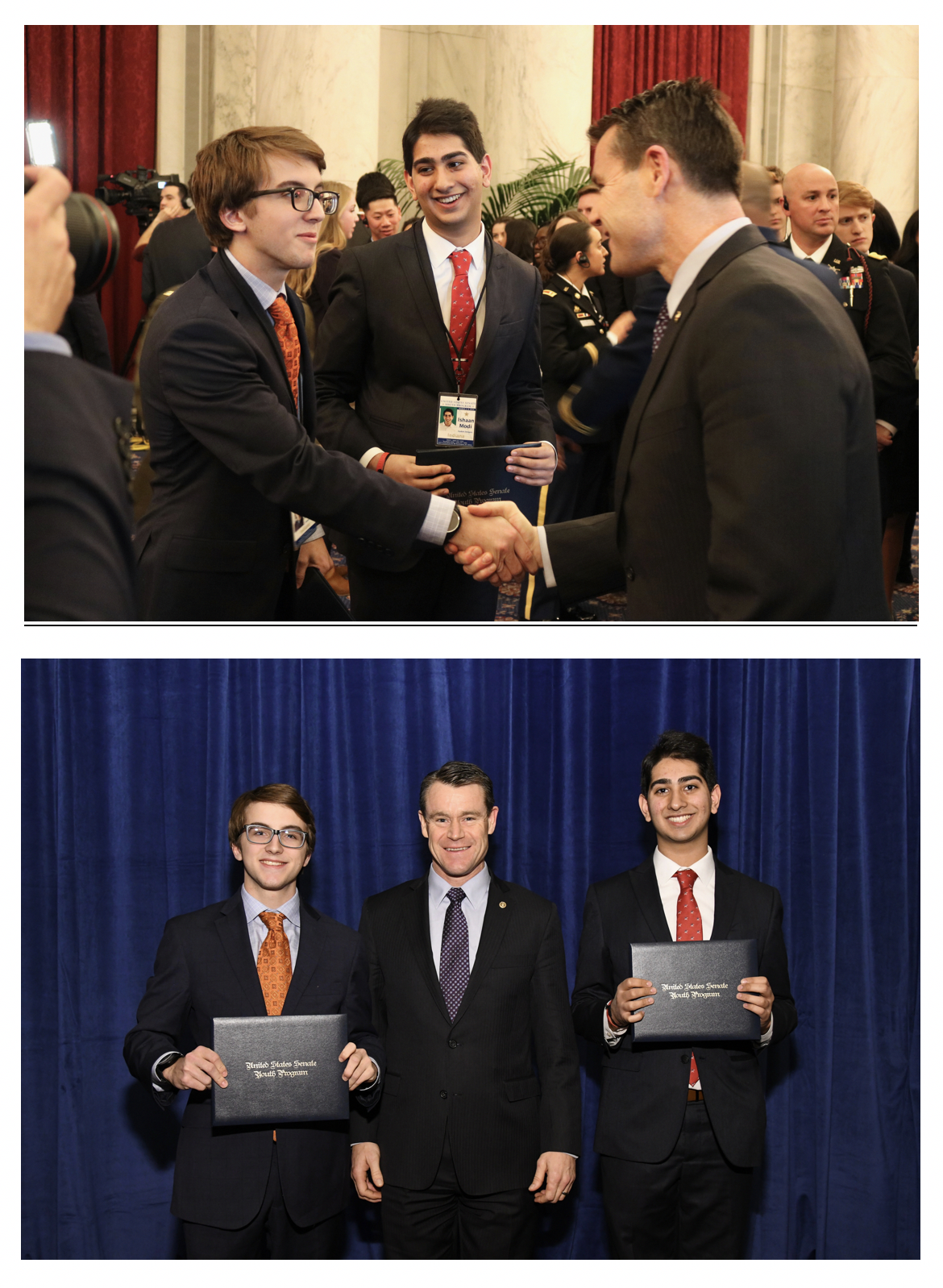 ---
---
Next Article
Previous Article