October 22, 2018
PHOTOS: Young Hosts Panel Discussion to Mark National Retirement Security Week
INDIANAPOLIS – To kick off National Retirement Security Week, U.S. Senator Todd Young (R-Ind.) and the National Federation of Independent Business (NFIB) today hosted a panel discussion in Indianapolis on the importance of retirement security. The panel was moderated by Barbara Quandt Underwood, NFIB's Indiana State Director, and panelists included Senator Young, Indiana Secretary of State Connie Lawson, and financial advisor Peter Dunn, known as "Pete the Planner."
Senator Young cosponsored the resolution designating October 21 – 27, 2018 as National Retirement Security Week. Statistics show that just under half of all private-sector workers aren't participating in a retirement savings plan through their employer. Twenty-eight percent of all non-retired adults lack any retirement savings, while nearly half of those aged 18-to-29 report no retirement savings at all. Senator Young has introduced the Retirement Security Flexibility Actand the Federal Retirement Commission Actto help strengthen private retirement programs and ensure Americans have the tools necessary to plan for retirement.
"As I travel throughout Indiana, financial security is consistently raised as a major area of concern. That's why I have introduced legislation to tackle the growing problem of families not being prepared for retirement," said Senator Young. "By hosting today's event, we hope to continue raising awareness about retirement security issues, financial literacy, and the important role employers play in helping their employees plan for their retirement."
"Indiana small business owners had a chance to hear directly Senator Young today about how he hopes to get more Hoosiers saving for retirement, so we are grateful for that opportunity," said Barbara Quandt Underwood, state director of NFIB in Indiana. "Small business owners do care about their employees and they want best for them, so they appreciate the Senator's leadership in trying to find a solution that will work for even the smallest businesses."
"An estimated 92 million Americans gave themselves a grade of C or lower on their knowledge of personal finance. This lack of knowledge leads to poor money management and makes citizens vulnerable to financial scams," said Indiana Secretary of State Connie Lawson."I'm very pleased to join Senator Todd Young today to help Hoosiers become financially stable, avoid investment fraud, and remain safe in retirement."
"With a significant shift away from pension plans, Hoosiers need to understand their role in the retirement readiness process. It's a challenge because they likely saw their parents and grandparents retire comfortably with pensions," said Peter Dunn."Retirement is still a relatively new concept, roughly 80 years old, and the need to provide ourselves with decades worth of sustainable income is a new challenge which needs all of our attention. Employers can make a huge impact on the lives of their workers by helping them understand this problem."
Event photos are included below:
From left to right: NFIB Indiana state director Barbara Quandt Underwood, Senator Todd Young, Indiana Secretary of State Connie Lawson, financial advisor Peter Dunn, known as "Pete the Planner"
From left to right: NFIB Indiana state director Barbara Quandt Underwood, Senator Todd Young, Indiana Secretary of State Connie Lawson, financial advisor Peter Dunn, known as "Pete the Planner"
NFIB Indiana state director Barbara Quandt Underwood presents Senator Todd Young with the NFIB's "Guardian of Small Business Award"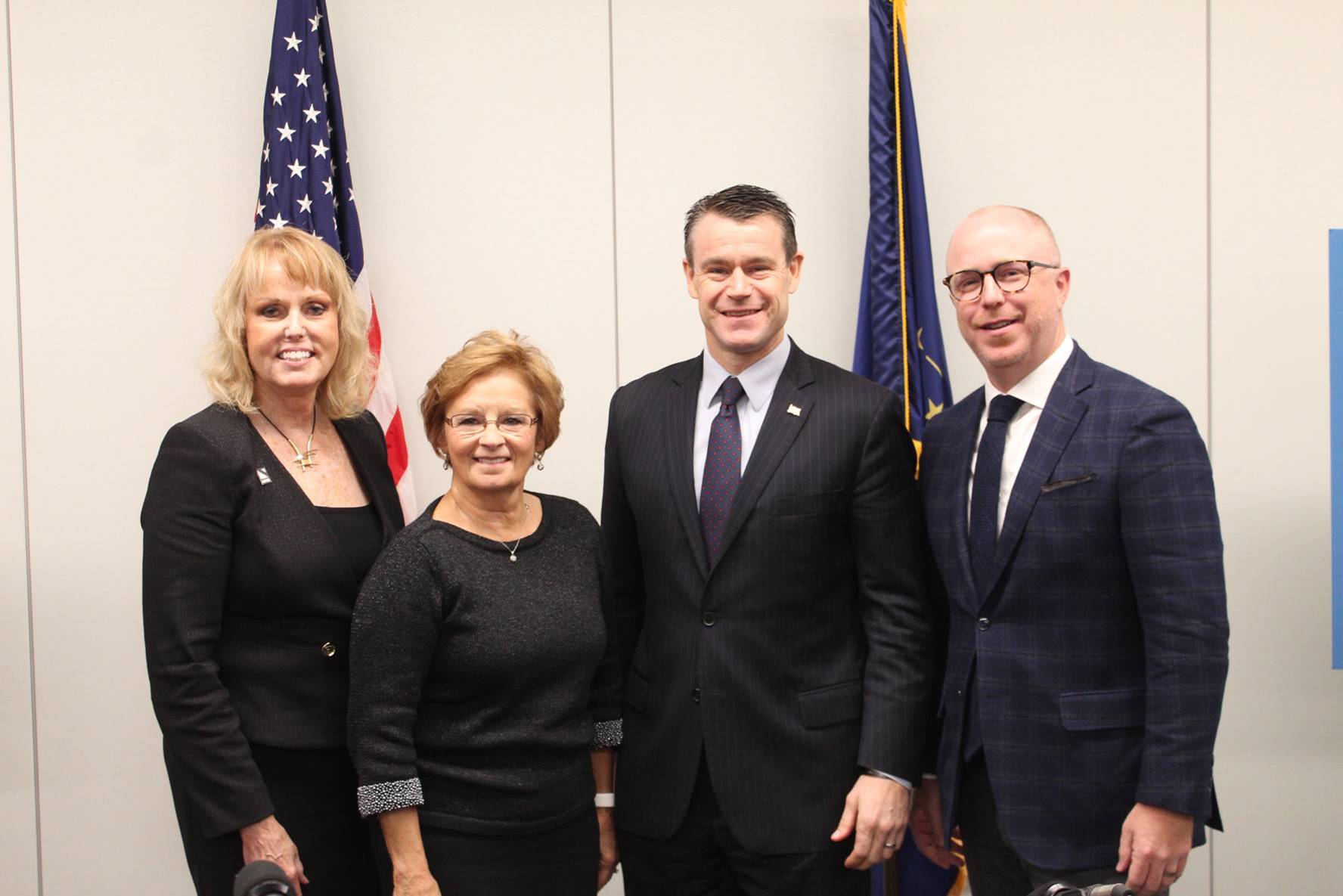 From left to right: NFIB Indiana state director Barbara Quandt Underwood, Indiana Secretary of State Connie Lawson, Senator Todd Young, financial advisor Peter Dunn, known as "Pete the Planner"
---
---
Next Article
Previous Article