March 08, 2018
PHOTOS: Young Speaks with Hoosier CTE Students in Washington
WASHINGTON, D.C. – U.S. Senator Todd Young (R-Ind.) spoke at the Association for Career and Technical Education (ACTE) reception this week to commend students and educators for their role in helping elevate the importance of career and technical education (CTE). Hoosier students visiting Washington attended the event, including members of Indiana's HOSA chapter, a student organization for future health professionals.
"Career and technical education is a tremendous opportunity for students and adults to access relevant education that leads to a good-paying job and employment security," said Senator Young, co-chair of the Senate CTE Caucus.
"Indiana HOSA was given the special opportunity to travel to the National Policy Seminar in Washington D.C. this past weekend. We used this conference to advocate for ACTE and the Perkins Grant. During this conference, Indiana HOSA was able to meet with representatives and senators from the state. Specifically, I had the opportunity to meet Senator Todd Young. Senator Young is one of the four co-chairs of the CTE caucus and is an advocate for career and technical centers, PLTW, career and technical organizations and all that encompasses ACTE. On behalf of Indiana HOSA and ACTE, we would like to thank Senator Young for his time and advocacy for CTE," said Teodora Simion, Indiana HOSA President.
The reception follows Senator Young's recent CTE roundtable in Hammond, Ind. where he convened students and experts as part of his Fair Shot Agenda to discuss the importance of apprenticeship programs and career and technical education. Senator Young also cosponsored a resolution recognizing February as CTE month which passed the Senate unanimously, and introduced legislation to modernize the National FFA Organization's charter to reflect agriculture education in the 21st century.
Photos from the event are below: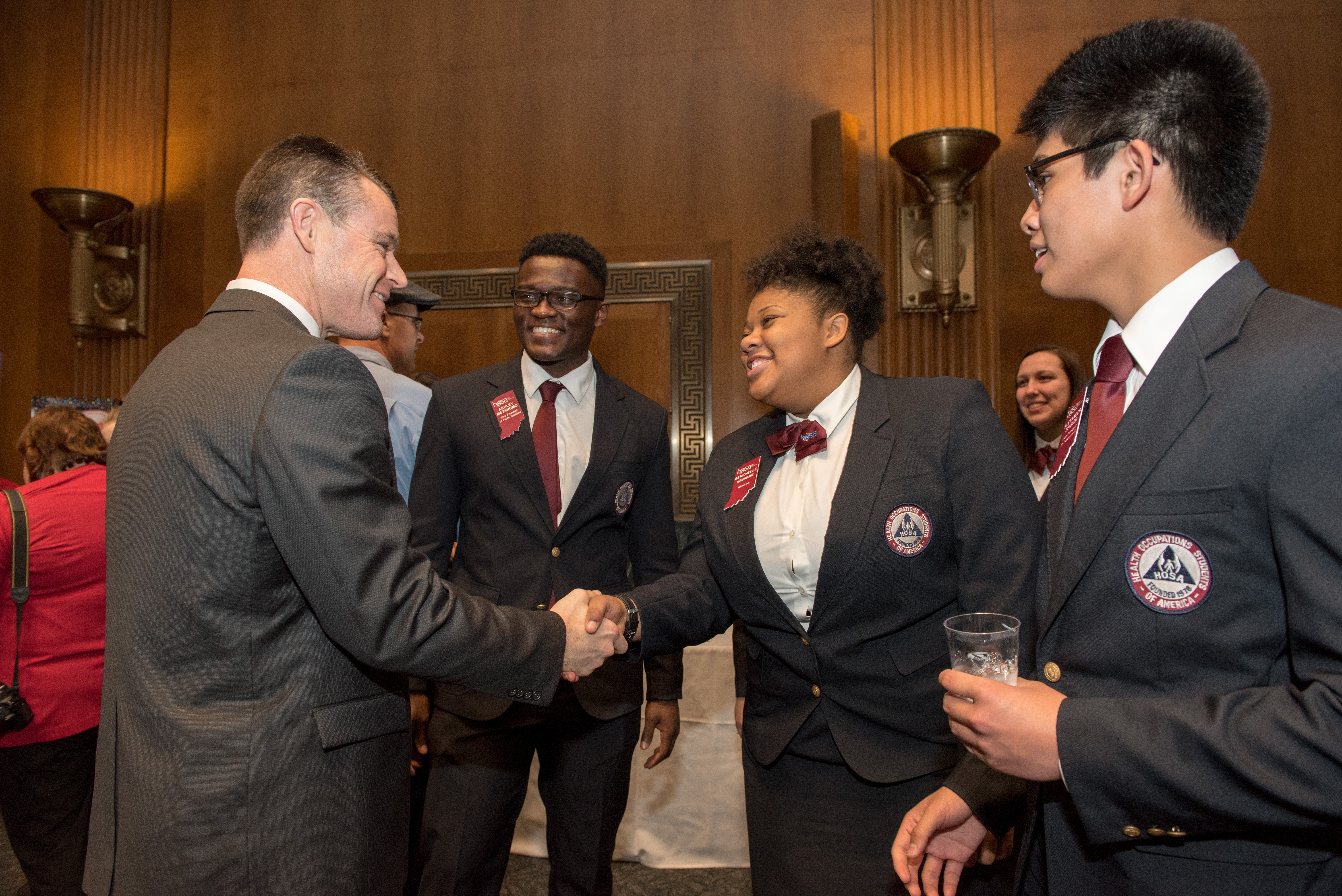 ---
---
Next Article
Previous Article