February 08, 2018
VIDEO: Young Introduces Hoosier Mom Becky Savage During Senate Hearing on Opioids
WASHINGTON, D.C. – Today, in the Senate Committee on Health, Education, Labor, and Pensions (HELP), U.S. Senator Todd Young (R-Ind.) introduced Becky Savage of Granger, Indiana, who tragically lost her two sons on the same night to alcohol and prescription drug overdoses. To help other families avoid such a tragedy, Becky formed the 525 Foundation to raise awareness of the dangers of drugs and alcohol. The 525 Foundation collaborates with local groups, law enforcement, and state agencies to educate young people about the dangers of underage drinking and the misuse and abuse of prescription drugs.
"Becky has turned unimaginable heartbreak into lifesaving action," said Senator Young. "I had the opportunity to visit with Becky yesterday, and I just want to reiterate how much respect and gratitude I have for Becky's bravery and willingness to share her story. Her tireless advocacy, paired with legislative action, can help curb the opioid epidemic that has devastated too many Indiana families."
Prior to today's hearing, Senator Young and Becky met to discuss her work with the 525 foundation. Click here to view photos of their meeting.
Senator Young also introduced legislation today to fight back against the opioid epidemic through increased research. The bipartisan Advancing Cutting-Edge (ACE) Research Act, will help advance the research necessary to better understand, treat, and ultimately end the opioid crisis.
Click here or the image below to view Senator Young's comments during today's hearing.
Click here to view Becky Savage's testimony before the HELP committee.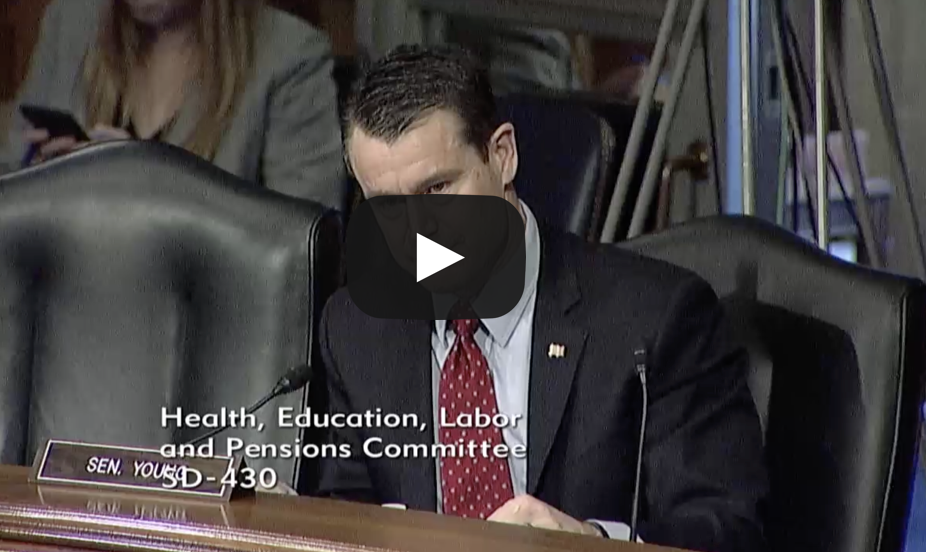 ---
---
Next Article
Previous Article