January 25, 2018
VIDEO: Young Introduces Innovation Zone Act to Promote Advancements in Higher Education
WASHINGTON, D.C. – Today, U.S. Senator Todd Young (R-Ind.) participated in the second of a series of hearings focused on reauthorizing the Higher Education Act. During the hearing in the Senate Health, Education, Labor, and Pensions (HELP) Committee, Senator Young announced he is introducing legislation to reform the under-utilized and inefficient experimental sites initiative within the Higher Education Act.
The experimental sites initiative is not a new concept, and was first introduced in the mid-1980s. However, a lack of evaluation and transparent data collection has prevented Congress from using information from the experimental sites to make real policy changes. These experiments are a vital part of understanding how to improve student success and reduce onerous regulation within the framework of higher education. Out of the 10 ongoing experiments, only one has published outcomes. Some of these experiments were started over seven years ago.
Senator Young's legislation, the Innovation Zone Act, would rename experimental sites as "innovation zones" to better reflect the mission of the initiative. The bill would also require the Secretary of the U.S. Department of Education to establish a methodology for capturing data before an experiment begins, so colleges have clear direction in reporting data. It would also allow colleges the opportunity to submit suggestions for future experiments.
"The experimental sites initiative is nearly 30 years old, but we still lack data on the effectiveness and outcomes of many experiments within the program. These experiments have the ability to promote innovation and access within our higher education system, but first we must have a way to measure what works and what does not. I look forward to working with my colleagues on the HELP committee to incorporate the Innovation Zone Act in the next Higher Education Act reauthorization," said Senator Young.
Click here or the image below to view Senator Young's comments during today's hearing.
Click here to view the Innovation Zone Act bill text.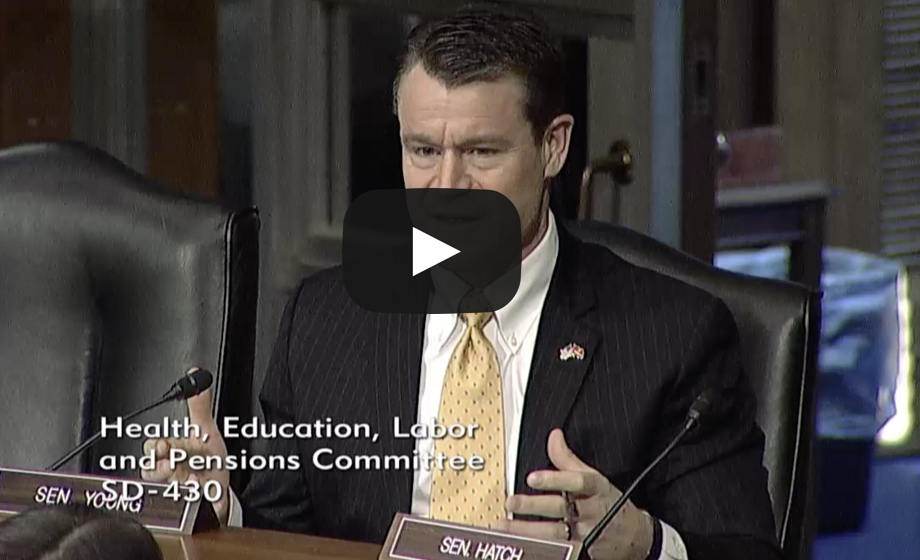 ---
---
Next Article
Previous Article