November 07, 2019
Young Releases Video Featuring Hoosier Veteran
"…I'm a Marine and Semper Fidelis is not just a slogan. We want to remain ever faithful to you and to other veterans so that some of your friends who didn't return, we honor their service, so that we honor yours, and so that the next generation is prepared to step up when their time comes." - Senator Todd Young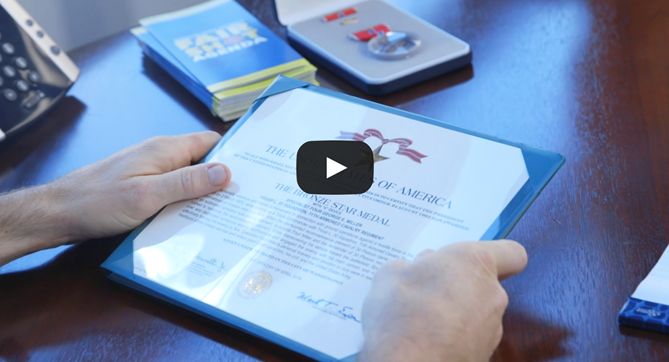 Click here or the image above to watch the video.
WASHINGTON – U.S. Senator Todd Young (R-Ind.) released a video ahead of Veterans Day to share how his office can help assist and honor Hoosier veterans. The video features the story of George Miller, from Mooreland in Henry County, who received a Bronze Star from Senator Young in June. Miller served as a track commander with Troop L, 3D Squadron, 11th Armored Calvary Regiment in Vietnam.
"Awarding the ribbons and medals to veterans and their families is important not only to the veterans themselves, it's important to all those who have served and sacrificed, it's important to the next generation of military service members and veterans to know that we honor their service. So, one of the things our office does is we're able to obtain those medals. In fact, I recently obtained a Bronze Star and gave that to a veteran," said Senator Young in the video.
"It's really special. I can't say how special it really is….This office is working hard," said George Miller in the video.
"We have a whole team of individuals whose focus is making sure our veterans get the benefits they deserve, and the respect, and the appreciation which they have earned. And we take great pride in that in our office," said Senator Young in the video.
Senator Young's office offers services to help veterans with VA benefits, locating military records, receiving missing or replacement service medals, and much more. If you or someone you know needs help navigating the federal government, click here or visit Young.Senate.Gov/Help.
To watch the full video, click here.
###
---
---
Next Article
Previous Article