April 18, 2023
Young Sharing Hoosier Sweets with Colleagues in Senate Candy Desk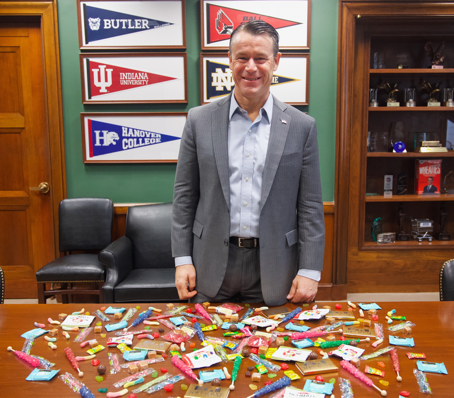 WASHINGTON, D.C. –– U.S. Senator Todd Young (R-Ind.) is offering his colleagues Hoosier sweets as the new occupant of the Senate's "candy desk." 

The desk is a Senate tradition since the 1960s, and the senator who sits at the desk is responsible for ensuring it is stocked with sweets from the senator's home state. The contents of the candy desk are available to all senators regardless of political affiliation. The desk is located on the Republican side of the Senate Chamber, in the last row, on the aisle, and adjacent to the Chamber's busiest entrance.

Senator Young takes over the desk from former Senator Pat Toomey (R-Pa.), who had the desk from 2015-2023. Young is the second Hoosier to occupy the desk. Indiana Senator Richard Lugar held the desk from 1977-1979.

"Candy manufacturers across Indiana are producing amazing treats, and my goal is to spotlight these unique products made and distributed by Hoosiers," said Young. "The candy desk is a popular destination for senators from both sides of the aisle, and I'm excited to share Hoosier candies with my colleagues. Perhaps a taste of Hoosier hospitality will sweeten the sometimes bitter divide in Washington."
The candy desk will be stocked with home state candy products from Hoosier confectioners, including:
Background on the Senate candy desk:

California Senator George Murphy began this tradition more than 40 years ago. Soon after he entered the Senate in 1965, the former Hollywood actor and film executive began stocking his Chamber desk with candy to gratify his sweet tooth. In 1968, he moved to an aisle desk on the last row near the elevator entrance. Given the member traffic that regularly passed by his new location, he invited other senators to help themselves and soon his desk became known to all as the "candy desk." After Murphy left the Senate in 1971, other senators who occupied the desk at that location carried on the tradition of keeping it well stocked with assorted mints, hard candies, and chocolates. More information on George Murphy is available here. More on the history of the desk is available here. 
---
---
Next Article
Previous Article